Subdued and controlled by magical means, the Cyber Behemoths are cyclopes that have been augmented with cranial implants and cybernetic attachments. With their plasma cannon on their back and their jump powered by rocket boots, the Cyber Behemoths form the ultimate menace in the Cyborg army.
You have waited. And you have been rewarded. For today, we release our new version of Ironfist, and with it, the fearsome Cyber Behemoth. Their powerful 5×5 explosive attack can be the end of many an opponent…but be careful, for you only have two shots.
Play it in our new map "Behemoth Path," and see how one Cyber Behemoth, commanded by a lone knight with some strategic maneuvering, can take on overwhelming armies, and reclaim your family heirloom from the dragon hoard.
Behold, Ironfist 1.3.0. Download it now.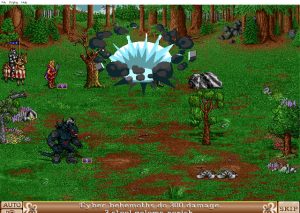 Music
HoMM II was the first game ever to feature operatic vocals, and features an excellent score by famed video game composer Paul Romero. For many years, versions of HoMM II such as the GOG.com version could only play the choppy MIDI versions. Ironfist had been similar, until now. We are pleased to announce that Ironfist now has full support for CD music, and will work out of the box with CD music when installed on top of the GOG.com version.
Oh, and did I mention there will be more music? We've recruited a very talented composer, and look forward to releasing some of his work.
For the Mapmakers
We've made some improvements to the Ironfist map editor, of which the most notable is the undo button. In the original Heroes II editor, you can only undo one step; now, in the Ironfist editor, you can undo many. Making a mistake is now much less of a big deal.
We've also implemented a major overhaul of the scripting system. Adding your own abilities and quests is easier than ever thanks to new features such as callbacks, modules, and deep binding. Details of the overhaul are given here, and examples are given in the introduction to scripting.
Team Openings
Ironfist is recruiting a new programmer. Do you want to turn your C++ skills into new features for one of the best PC strategy games ever? This role may be for you.
We are also looking for players willing to volunteer as testers for our new maps.
Contact homm2ironfist@gmail.com if interested in either position.
And More
From a significantly improved loading time and stability improvements, to lots of new scripting functions to use in your maps, we've made quite a few smaller changes to Ironfist. See the full list in the release notes.
Things to Come
Though things have been quiet on the outside here at Ironfist HQ, on the inside, we've been busier than ever. New maps, creatures, and features are arriving like clockwork as the new Cyborg faction comes to fruition. Although this release just contains the first of the new Cyborg creatures, we have finished the artwork for all 6 of them, and are rapidly finishing the coding and sounds for the last few. There is more to come.
Happy gaming,
Jimmy "Darmani" Koppel
Executive Producer, Project Ironfist